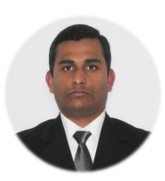 The prosperity of a business is closely related to creativity and technological advancement in a competitive business environment. Universities are knowledge hubs that are capable of conducting cutting-edge, multidisciplinary scientific research. Collaborations with universities are also worth investing in the expansion of the enterprise and in the economic development of the country.
CAMR at the University of Sri Jayewardenepura has access to modern material characterization and testing equipment and multidisciplinary academic expertise. In the recent past, the Center provided an excellent forum for local industries to work with the CAMR academic staff to explore new product formulations or to find solutions for current industrial problems.
We encourage industries and researchers to come forward and create research collaborations with CAMR to build a new culture of research which supports the needs of the industry.
Dr. Thusitha N.B. Etampawala
Director – CAMR
Senior Lecturer
Faculty of Applied Sciences
University of Sri Jayewardenepura