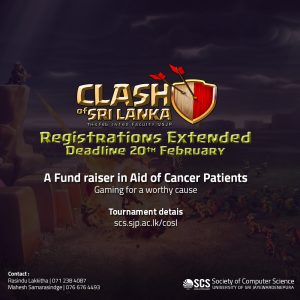 The clans will arrive.The clans will clash.Winners will celebrate their victory.
Losers will make it a lesson.Then the event will end.But, this is COSL which is played for a better cause.This is COSL which make players play to make another person's life better.
Register Now                      : https://goo.gl/UmV219
(Deadline extended to 20th February 2017)
Competition guidelines  : https://goo.gl/Asi0Pn
Sponsorship proposal    : https://goo.gl/Vbh4zX
As the Society of Computer Science of University of Sri Jayewardenenpura we always understand the responsibility we have towards the society."Back to School" is such an involvement of us in making the new technology closer to school children.
COSL is also planned in such a way that its final outcome is the fulfillment of a Common Social Responsibility(CSR).
COSL-Inter Faculty and COSL-Inter University are the main fund raisers for the CSR project which is planned to be held in August 2017.