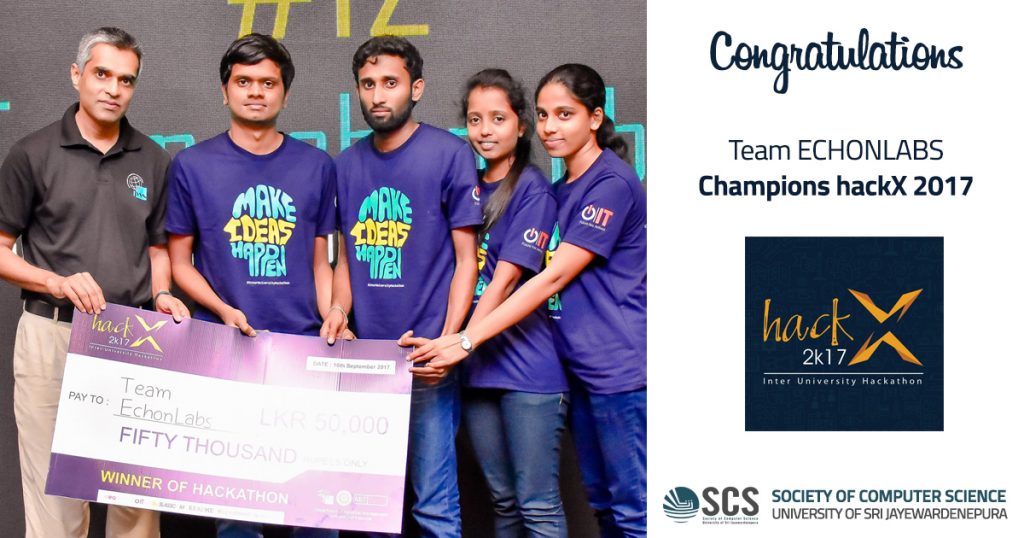 The world constantly evolves, thanks to the people who innovate. Although Facebook is now able to recognize you in a selfie, for Mark Zuckerberg, it is an old piece of tech and he now plans on implementing AR and AI.
With the intention of opening a stage for such innovative minds within the Sri Lankan University arena, HackX was organized by the Department of Industrial Management, University of Kelaniya for the 2nd consecutive time. Initial applications of 96 were shortlisted to 15 and was called for the overnight Hackathon which happened on 15th and 16th of this month at the iconic Dialog auditorium.
We, the Society of Computer Science,Department of Computer Science, University of Sri Jayewardenepura would like to announce that the Champion team, EchonLabs is from our society. Their innovative concept of a driving assistant namely, TurnHere which we believe has a massive potential to be a game changer in secure driving.
In a time where safety driving has become a top priority topic, TurnHere is an ideal kickoff to be the groundbreaking solution for the burning issue.
Explaining one killer point of TurnHere, Dulan Dias the leader of the team mentioned that it is capable of providing the ideal maximum and minimum speeds depending on the location.Also, the rest of the team, Damith Lakshitha, Chamindi Perera and Madhushi Welikala mentioned about the immense support they continuously received from the Department of Computer Science and Society of Computer Science to reach to this mile stone.
We wish them the best of luck for their future endeavors and may the blessings of mother J'pura shower upon them.
Keep in touch us.
Article By
Uditha Karunarathne
Department of Computer Science,
Society of Computer Science,
University of Sri Jayewardenepura