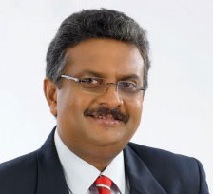 It is with great pleasure and enthusiasm that I welcome you all to our most humble and hospitable home for the 71st Annual SLAAS Sessions. This is the fourth time that the University of Sri Jayewardenepura has hosted the SLAAS sessions and we are happy to hold such an event, which draws together some of the greatest practitioners of empirical sciences in Sri Lanka under one canopy.  The theme for this year's seminar "Wealth Creation through Science" tributes the motto of our university "of things that arise knowledge is the greatest", for the greatest collective wealth of man is knowledge and our university is a flagship institute that fosters an ambience of both impartation and synthesis of knowledge, through teaching and research. Knowledge accrued, is a capital to social development, a propeller for economic growth, an outreach for poverty alleviation and importantly is a social-integration tool and peace-stabilizer. These are important factors for the prosperity of our country.
It is my sincere hope that the SLAAS sessions will augment our knowledge and awareness of scientific matters of contemporary significance to Sri Lanka and will push us further in our empirical quests, which are within reach of our scientific community. It is said that 'united we stand and divided we fall" and this fundamental canon is of high significance to academics and scientists, since cross- trans- and inter-disciplinary research is much needed to make quantum leaps in science and technology. The more we alloy the elements of our hearts together and streamline our minds in one orientation, the more we are bound to harness the greatest asset of science – curiosity. Curiosity is the chief architect of science and will always be a true origin of wealth, knowledge or otherwise. "Eureka" or "I Have Found", will forever remain a residue of curiosity-driven design.
Hope each and every one of you will enjoy and learn from the many channels of research dissemination at this wonderful gathering of astute minds and committed hearts.
Prof. Sampath Amaratunge
Vice-Chancellor, University of Sri Jayewardenepura