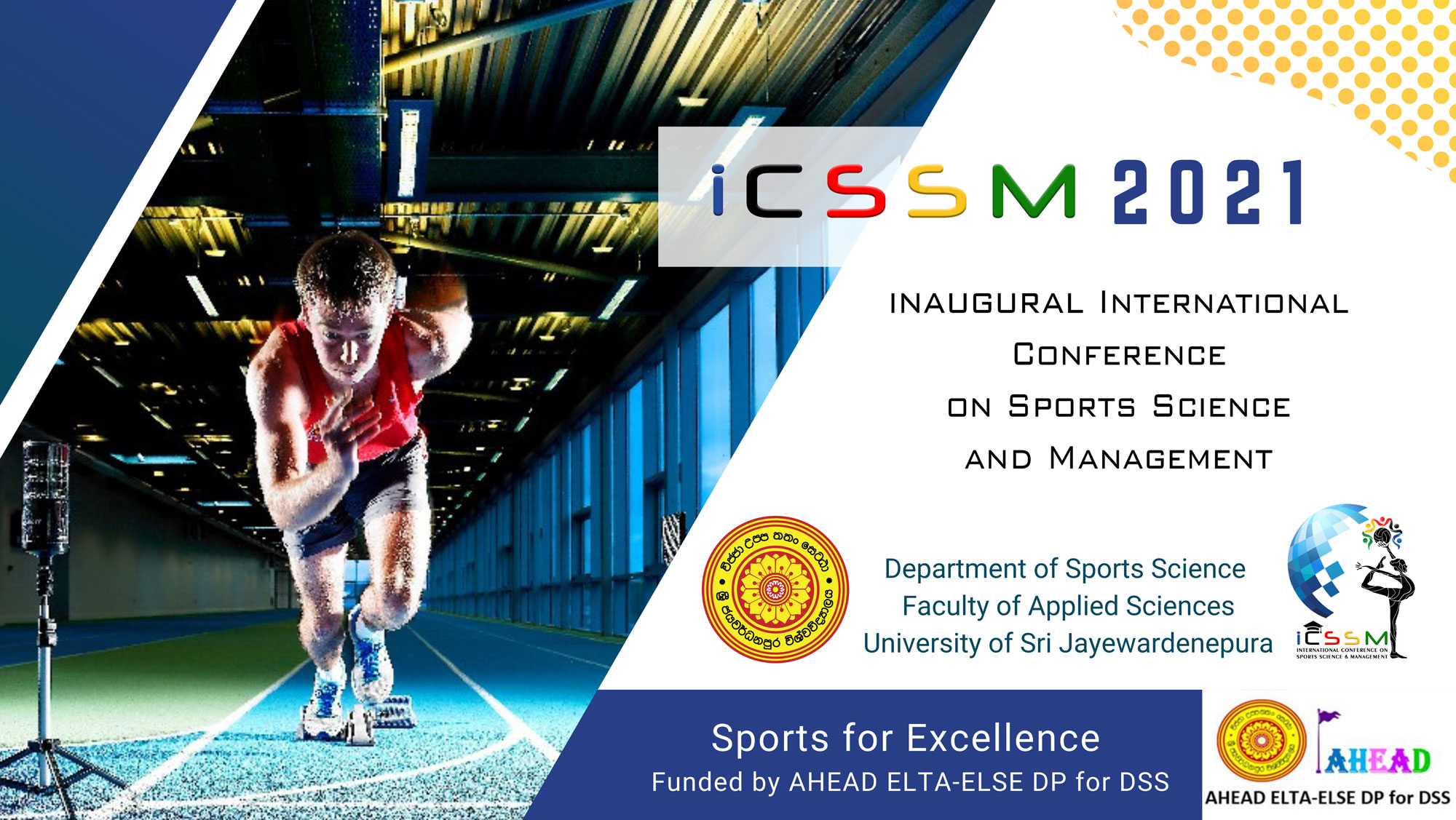 The Department of Sports Science intends to organize the Inaugural International Conference on Sports Science and Management (iCSSM 2021) under the theme 'Sports for Excellence'. The main objectives of this symposium are to provide a platform for SSM undergraduates to publish their research findings and facilitate their research engagements in the Sports Science and Management domain. An online pre-conference webinar is also scheduled parallel to iCSSM 2021. This series of online events will be held on 29th, 30th November and 1st December 2021 with the collaboration of foreign scholars from Edith Cowan University, Australia; Simon Fraser University, Canada and Jigawa State College of Education, Nigeria.
Professor Robert Newton (PhD, DSc, AEP, CSCS*D, FACSM, ESSAF, FNSCA) from Edith Cowan University, Western Australia will grace the occasion as the Chief Guest and will be delivering the keynote speech. Mr. Mahela Jayawardena, the present Chairman of Sri Lankan National Sports Council will deliver the invited speech at iCSSM 2021.
This event is funded by the AHEAD ELTA-ELSE Development Project for DSS and the University of Sri Jayewardenepura.
Pre-Conference Webinar: Promoting Health and Wellbeing through Sports
Date: Monday, 29th November 2021

Time: 3.00 p.m. (GMT +5.30)

Platform: Zoom Link

Meeting ID: 918 0366 5731

Passcode: iCSSM#21we

Session Speaker

Dr. Kabiru Musa

(BSc, MSc & Ph.D. in Health Education)
Chief Lecturer, Department of Physical and Health Education, Jigawa State College of Education, Gumel, Nigeria
Speakers
Chief Guest / Keynote Speaker
Professor Robert Newton
(PhD, DSc, AEP, CSCS*D, FACSM, ESSAF, FNSCA)
Vice-Chancellor's Professorial Research Fellow
Professor of Exercise Medicine, Exercise Medicine Research Institute,
Edith Cowan University, Western Australia
Invited Speaker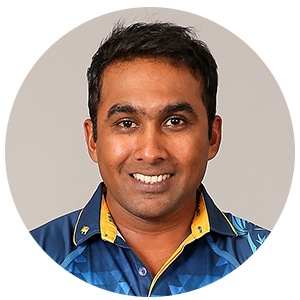 Mr. Mahela Jayawardena
Sri Lankan Cricket Legend
Chairman – Sri Lankan National Sports Council
Conference Tracks
Track
Sessions
Sports Science
Session A: Exercise and Sports Physiology, Sports Biomechanics
Session B: Training Methods, Sports Injuries, Sports Nutrition, Doping in Sports
Sports Management
Session C: Sports Facility Design, Sports Marketing, Sports Tourism
Session D: Sports Leadership, Sports Organisational Behaviour,  Sports Psychology
Sports Analytics
Session E: Performance Analysis
Conference Programme
Day 1: Inauguration Ceremony
Date: Tuesday, 30th November 2021
Time: 3.00 p.m. (GMT +5.30)
Zoom Link : https://zoom.us/j/98412783920?pwd=L0dtL3psdFh1RFdyeWVSVE5jc3MwZz09
Meeting Code : 984 1278 3920
Meeting Password : iCSSM#21
Commencement of the Inauguration Ceremony
University Anthem
Welcome Speech

Dr. (Ms.) S. Weerasinghe (Head of the Department / Co-Chair – iCSSM 2021)
Address by the Vice-Chancellor

Senior Professor S. S. L. W. Liyanage
Address by the Dean

Senior Professor L. Karunanayake
Documentary Video – Department of Sports Science
Introducing Chief Guest/ Keynote Speaker

Professor N. M. S. Sirimuthu (Co-Chair – iCSSM 2021)
Keynote Speech

Professor Robert Newton (Professor of Exercise Medicine, Edith Cowan University, Western Australia)
Introducing Invited Speaker

Dr. (Ms.) H.P.N. Perera (Co-Chair – iCSSM 2021)
Invited Speech

Mr. Mahela Jayawardena (Chairman – Sri Lankan National Sports Council)
Vote of Thanks

Mr. A. L. K. R. Fernando (Convener / Secretary – iCSSM 2021)
National Anthem
Day 2: Technical Sessions 
Date: Wednesday, 01st December 2021
Time: 9.00 a.m. to 1.00 p.m. (GMT +5.30)
Track 1: Sports Science
Session A: Exercise and Sports Physiology, Sports Biomechanics
Zoom Meeting Link:
https://learn.zoom.us/j/63793325299?pwd=ZUI3Q255NFdkbzZYNnJpaFpHTGlJdz09
Zoom Meeting Code: 637 9332 5299
Zoom Meeting Password: iCSSM#T1sA
Session B: Training Methods, Sports Injuries, Sports Nutrition, Doping in Sports
Zoom Meeting Link:
https://learn.zoom.us/j/67505924632?pwd=ZEwyV1AzVzI0eFI1ZmFoWDBpdFIrUT09
Zoom Meeting Code: 675 0592 4632
Zoom Meeting Password: iCSSM#T1sB
Track 2: Sports Management
Session C: Sports Facility Design, Sports Marketing, Sports Tourism
Zoom Meeting Link:
https://learn.zoom.us/j/64832375704?pwd=Um85aGRudXRHSVZ6L01DVGN4ck9OUT09
Zoom Meeting Code: 648 3237 5704
Zoom Meeting Password: iCSSM#T2sC
Session D: Sports Leadership, Sports Organisational Behaviour,  Sports Psychology
Zoom Meeting Link:
https://learn.zoom.us/j/66128165363?pwd=YmEwbE5LcWdZaFVmU0VjY1F4VnQ2UT09
Zoom Meeting Code: 661 2816 5363
Zoom Meeting Password: iCSSM#T2sD
Track 3: Sports Analytics
Session E: Performance Analysis
Zoom Meeting Link:
https://learn.zoom.us/j/61439518775?pwd=WjF2TERjK3ZtQzF1aEt2amNSV2Y3QT09
Zoom Meeting Code: 614 3951 8775
Zoom Meeting Password: iCSSM#T3sE
Conference Committee
Co-Chairs
Prof. N. M. S. Sirimuthu

Dr. (Ms.) S. Weerasinghe

Dr. (Ms.) H. P. N. Perera

Convener / Secretary
Mr. A. L. K. R. Fernando
Assistant Secretary
Ms. A. M. G.C.P. Adikari
Editors
Dr. (Ms.) S. Weerasinghe

Dr. (Ms.) H. P. N. Perera

Editorial Committee
Prof. N. M. S. Sirimuthu

Dr. (Ms.) S. Weerasinghe

Dr. (Ms.) H. P. N. Perera

Ms. A. M. G.C.P. Adikari

Dr. (Ms.) S. K. Fernando

Mr. A. L. K. R. Fernando

Organizing Committee
Prof. N. M. S. Sirimuthu

Dr. (Ms.) S. Weerasinghe

Dr. (Ms.) H. P. N. Perera

Ms. A. M. G.C.P. Adikari

Dr. (Ms.) S. K. Fernando

Mr. A. L. K. R. Fernando

Ms. W. M. N. S. Wijethunga

Mr. A. H. C. Perera

Mr. C. Ginige

Ms. D. G. N. S. Tharaka

Mr. L. H. M. P. De Silva

Ms. H. R. Dharmadasa

Ms. S. H. Welikala

Ms. T. N. W. Ekanayake

Ms. G. M. V. Upeksha

Mr. A. M. A. L. Adikari

Ms. K. A. A. Ishani
Contact Information
Mr. A. L. K. R. Fernando
Convener / Secretary – iCSSM 2021
Telephone: +94 (0)112881530/1 (Exten.: 1530/1) ; +94 (0) 777577178
Fax: +94 (0)112803828
Email: icssm@sjp.ac.lk