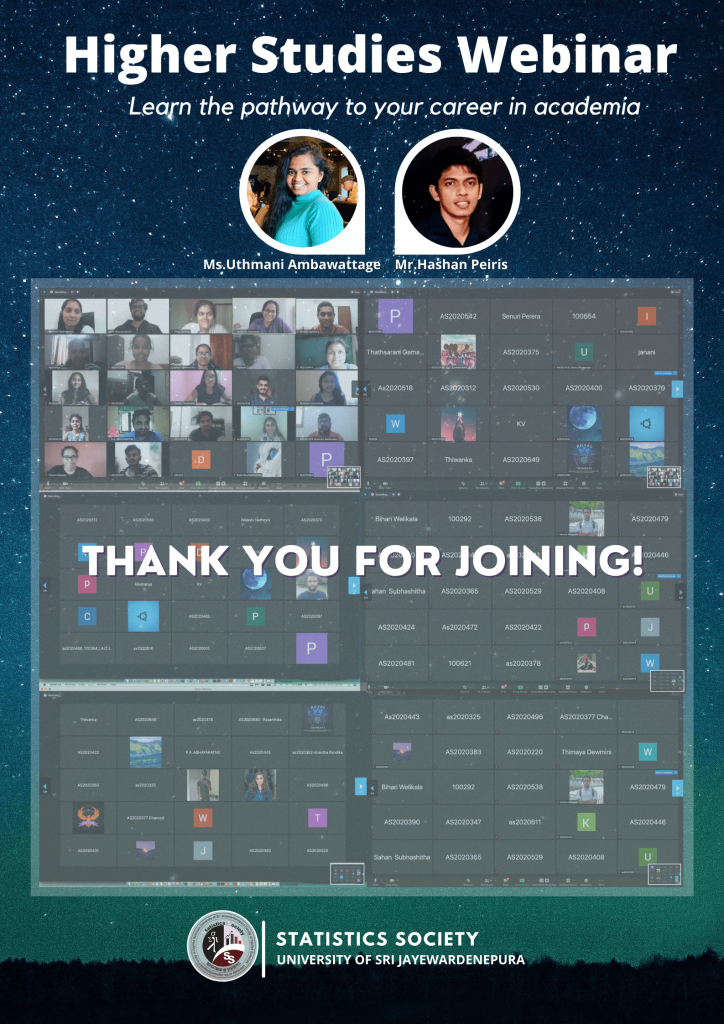 What is your future plan? What do you want to do after you graduate? Do you want to continue your higher studies but you don't have an idea about the path that you need to take to get there? Higher education not only gives you exposure in the field of your choice, but it also teaches you how to comprehend complicated subject matter, think analytically and effectively communicate your ideas. You will also get to learn important skills like organization, self-discipline, and openness towards diversity. This is why as per the idea of Dr. Rajitha Silva, the Senior Treasurer of the Statistics Society of University of Sri Jayewardenepura, a webinar was organised under the theme "Higher Studies; Learn the first steps to higher studies as a first year undergraduate". This was especially crafted for the first year undergraduates of the Faculty of Applied Sciences, University of Sri Jayewardenepura to motivate them and give them a clear vision on their higher studies journey.
The higher studies webinar was successfully held on the 12th September 2021, 06.00 PM onwards via Zoom with over 150 participants who joined with the purpose of getting a clear understanding about higher studies after their graduation. The speakers of the webinar were Ms. Uthmani Ambawattage (MSc student and Graduate Teaching Assistant at the Department of Mathematics and Statistics, University of Calgary, Canada) and Mr.Hashan Peiris (MSc student and Graduate Teaching Assistant at the Department of Statistics and Actuarial Science at Simon Fraser University, Canada) who took an unorthodox strategy in making the session interactive and interesting. Ms.Uthmani started the session by sharing her experiences at the University of Calgary and how university undergraduates should plan their strategy in getting ready for their higher studies. Afterwards Mr. Hashan shared his experiences about balancing academics with his professional obligations and extracurricular activities. Finally, participants got a chance to forward their questions to the speakers in the Q and A session and participants got clear answers for their questions.
We thank Ms.Uthmani Ambawattage and Mr. Hashan Peiris from the bottom of our hearts for accepting our invitation and dedicating their time and energy to inspire our fellow undergraduates. Our gratitude also extends to Dr. Rajitha Silva for initiating this event and always being our pillar of strength, encouraging us to organize timely events for our own fellow undergraduates. We are grateful for the immense guidance given by Mr. Janith Wanniarachchi, the President of the Statistics Society for guiding us throughout the organizing and execution stages of the session , Ms. Ishani Upatharitha for dedicating her time towards effective communication about the session, Sachini Silva, Bihari Welikala, Ravindu Jayaweera for moderating the session, and finally to all  the members of the Statistics Society executive board and the Estadistica organizing committee for their immense support and encouragement.
Finally, we thank all enthusiastic undergraduates who participated in this event for your engagement is what propels us to greatness!
Written by :  Ms. Sachini Silva, Mr. Ravindu Jayaweera, Ms. Bihari Welikala
Estadistica Organizing Committee
Statistics Society of University of Sri Jayewardenepura
Keep in touch with us at; Facebook | LinkedIn