Workshop on Outcome based – learner centered learning Education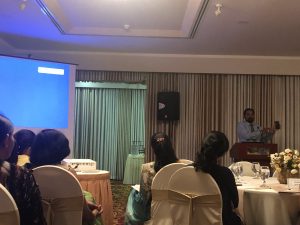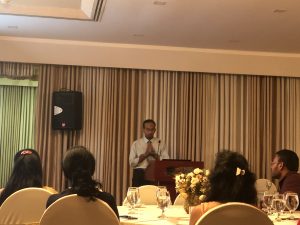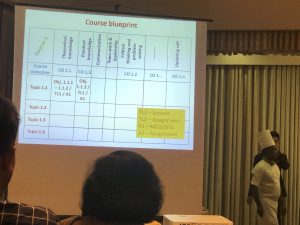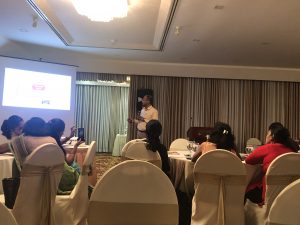 AHEAD organized a workshop on outcome based – learner centered learning education on the 24th January 2020. The resource personnel were Prof  Prasad Sirithunga,  Prof. Gominda Ponnapperuma and Dr. Upali Mampitiya.  Dr Mampitiya gave an introduction on SLQF and demonstrated how to align a curriculum with SLQF. Prof  Ponnamperuma gave an overview of Outcome-based Education and Compliance of the curriculum with the SLQF.  Prof. Prasad Sethunga  conducted group activities to identify the teaching and assessment practices currently used within departments and  guidance on incorporating novel OBE LCT methodologies into the curriculum and  evaluation of such components. The workshop attended by the all the academic staff members of the departments
Workshop on Program Review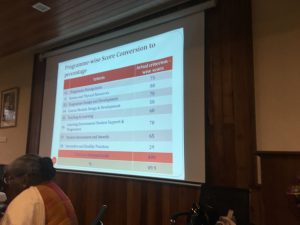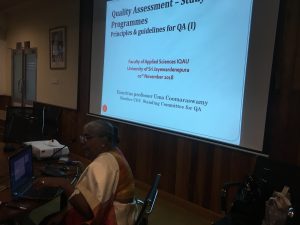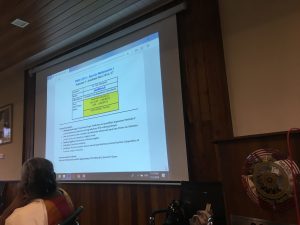 This workshop was organized by the IQAC to aware the faculty members on various aspects of program review. The workshop was held on the 1st of November 2018 at the Faculty Board Room and was chaired by the Dean, Prof. Sudantha Liyanage. The resource personnel were Prof. Uma Kumaraswamy, Prof. Kalyani Perera and Dr. Upali Mampitiya.
Prof. Uma Kumaraswamy highlighted the importance of QA and role and responsibilities of IQAC. She emphasized on expectations from teachers,  how to improve quality of learners and the teachers, how to evaluate the quality and finally how to enhance the quality of both.  Dr. Upali Mampititya presented on "how program review standards are associated with SLQF", while Prof. Kalyani Perara made a comprehensive presentation on 'Programme Review and SER Preparation'. At the end of the workshop there was an interactive session between the faculty members and the resource personnel.
Workshop on enrichment of the existing curricula
The AHEAD organized the above workshop for the selected staff members and some students of the departments on the 3rd November 2019 at the Faculty board room. The workshop was chaired by the dean and the ADEAD coordinator; Prof. Nelum Deshapriya. The dean introduced the curricular of the degree programmes by the FAS. There were group discussion between the departments and the stakeholders relevant to each department and the departments came with suggestions what they can do to improve the curricular to prepare graduates for the job market. Furthermore, the stakeholders also shared their thoughts on improving the curricular.
Workshop on counselling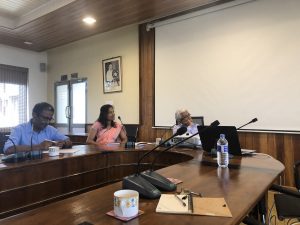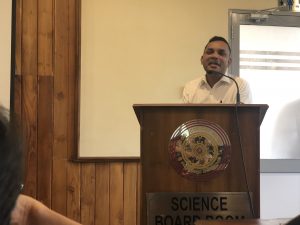 The AHEAD organized a counselling workshop for the FAS academic staff members on the 7th January 2020 at the faculty board room. The resource personnel were Prof. Ajith Abeysekera, and the 2 counselors; Mr. Ishan Edirisuriya and Ms. Rasika Manohari from the Counselling unit, Faculty of Applied Sciences. Prof. Abeysekera presented on advising methods and how to help students. The two counselors gave an introduction to counselling and further expanded on "how to help students, what academic staff can do to help the students". They also  spoke about their experiences with the students.