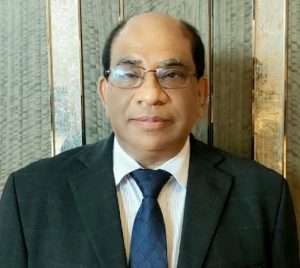 Professor of Physics
Email: : arkumarasinghe@yahoo.co.uk, argk@sjp.ac.lk, arkumarasinghe67@gmail.com
Office : 0112881505
Research interest :Graphene,CNT, Synchrotron Radiation, Nanosolar cells,Surfaces and Interfaces
ACADEMIC QUALIFICATIONS
(2004) PhD (Physics) The University of Manchester, Manchester, UK. Thesis: Scanning Tunnelling Microscopy (STM) and Resonant Photoemission Studies on the Anatase Phase-TiO2. Advisor: Prof. Wendy Flavell.
(1996) MPhil (Physics), University of Ruhuna, Sri Lanka. Thesis: Investigations on Solar Energy Conversion Devices based on dye-sensitized solar cells.
Advisor: Prof Kirthi Tennakone.
(1990) BS (Hons) in Physical Sciences, University of Ruhuna, Sri Lanka.
CURRENT RESEARCH PROJECTS
1. National Research Council (NRC) of Sri Lanka, Target Oriented Grants TO16/05
Development of a Model Treatment Facility for Remediation of Total Dissolved Solids and Fluoride in Groundwater – A Sustainable Solution for Dry Zone Drinking Water Problems.
2. Development (synthesis, characterization, applications and scaling up) of nanocarbon materials (graphene, rGO, GO, CNT and graphite nanoplatelets (GNP)) for water, energy, composites and optoelectronic devices.
3. Development of next generation sensitized nanostructures based photovoltaics using laser and synchrotron radiation based techniques.
4. Investigation of electronic structure of nanocarbon using scanning probe microscopy (STM/STS) and NEXAFS spectroscopy.
PUBLICATIONS