Department of Chemistry
Chemistry is a rapidly growing discipline bringing new discoveries theories, and scientific applications that ultimately benefit society. It is necessary for practicing chemists to be proficient in a wide range of chemical disciplines in order to address the important problems that lie at the interface of chemistry and closely related disciplines.
The Department of Chemistry at the University of Sri Jayewardenepura offers courses that incorporate the most recent advances in the discipline and provide students with a strong foundation in the fundamentals of chemistry and a choice of more specialized optional courses which cover a wide range of topics to suit their future goals. Academic programs in chemistry are designed to meet the needs of the country and make the students prepared to seek employment with confidence.
Since 2004, the department of Chemistry offers the subject of Polymer Science and Technology also as a subject for the general degree. The course consists of course work, practical classes and a research component geared towards training Polymer Scientists/Technologists, Quality Control Officers, Plant Managers, etc. needed for industries dealing with plastic and rubber products.
The vision of the department is to contribute to national development, scientific advancement and professional development by providing up to date training and opportunities to students to become efficient and successful professionals.
Course Syllabi
* Industrial Chemistry-Special Degree
NEWS
Best Performance Awards 2018/19

"Best Performance Awards" for the academic year 2018/19 were awarded at the 45th convocation 2019 to the Chemistry Honors degree students.

Miss A.A.D.T. Abeysinghe (left-AS2014002) has received the medal for Organic Chemistry and Miss K.D.M.B. Dharmasiri (right-AS2014042) has received two medals for Inorganic and Physical Chemistry for the academic excellency in B.Sc. Chemistry (Honors) degree program
JOIN US
The Department of Chemistry will be happy to hear from individuals intended in joining us with specialization in the following area: Inorganic Chemistry. Please write to Head of the Department for more details. Any recruitment made will be only after formal advertisement of vacancies.
Ms.Hemavaruni Fernando (M.Phill USJ) has been listed among Pulse.lk's ten female scientists you need to know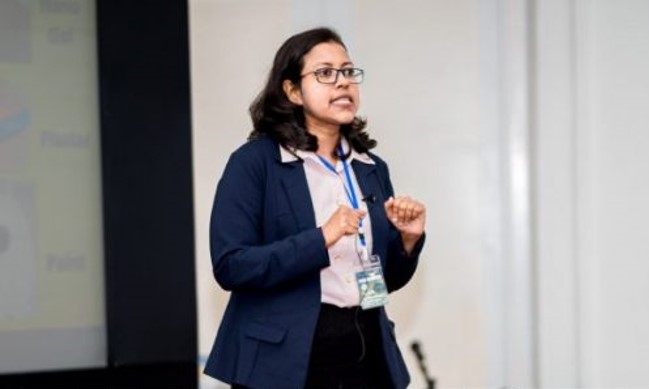 According to the National Science Foundation (NSF) Statistical Handbook for Sri Lanka, female scientists in natural sciences, medicine, and agricultural sciences make for 40%, 46%, and 38% of the current pool. While these proportions may not be too bleak, much larger gender differences existed in engineering and technologies (only 27% female), and social sciences (only 30% female).
To celebrate the local queens who have moved the very fabric of discovery and contributed to the advancement of our environment and society, Pulse.lk has compiled a list of ten 'Female Sri Lankan Scientists you need to know about'.
It is with great pleasure that we announce Ms.Hemavaruni Fernando (M.Phill USJ) has been listed among those ten female scientists.
Name: Hemavaruni Fernando

Specialisation: Anticancer Effects of Garcinol Mediated Metal Nanoparticles

Occupation: Research Assistant at the Department of Chemistry, Faculty of Applied Sciences, University of Sri Jayewardenepura

Alma Mater: Master of Philosophy University of Sri Jayewardenepura


Hemavaruni Fernando is currently a Research Assistant at the Department of Chemistry, Faculty of Applied Sciences, University of Sri Jayewardenepura. Her research is mainly focused on the determination of in-vitro antimicrobial, antioxidant and anticancer activities of garcinol-mediated metal nanoparticles and garcinol metal complexes. Garcinol is a chemical compound extracted from the Goraka plant, but possible applications have been limited due to the pant's lower solubility in water.
Currently, Miss Fernando's research work achieved three abstract publications in national and international conferences including the Best Poster Presentation at the 74th annual sessions of Sri Lanka Association for the Advancement of Science (SLAAS-E3) and one full paper publication in the journal of microbiology and biotechnology (JMB). She also won a People's Choice Award for her research on Antimicrobial Activity of Garcinol mediated metal nanoparticles and metal complexes.
Read More:
http://www.pulse.lk/everythingelse/9-lankan-women-in-science-you-need-to-know-of/