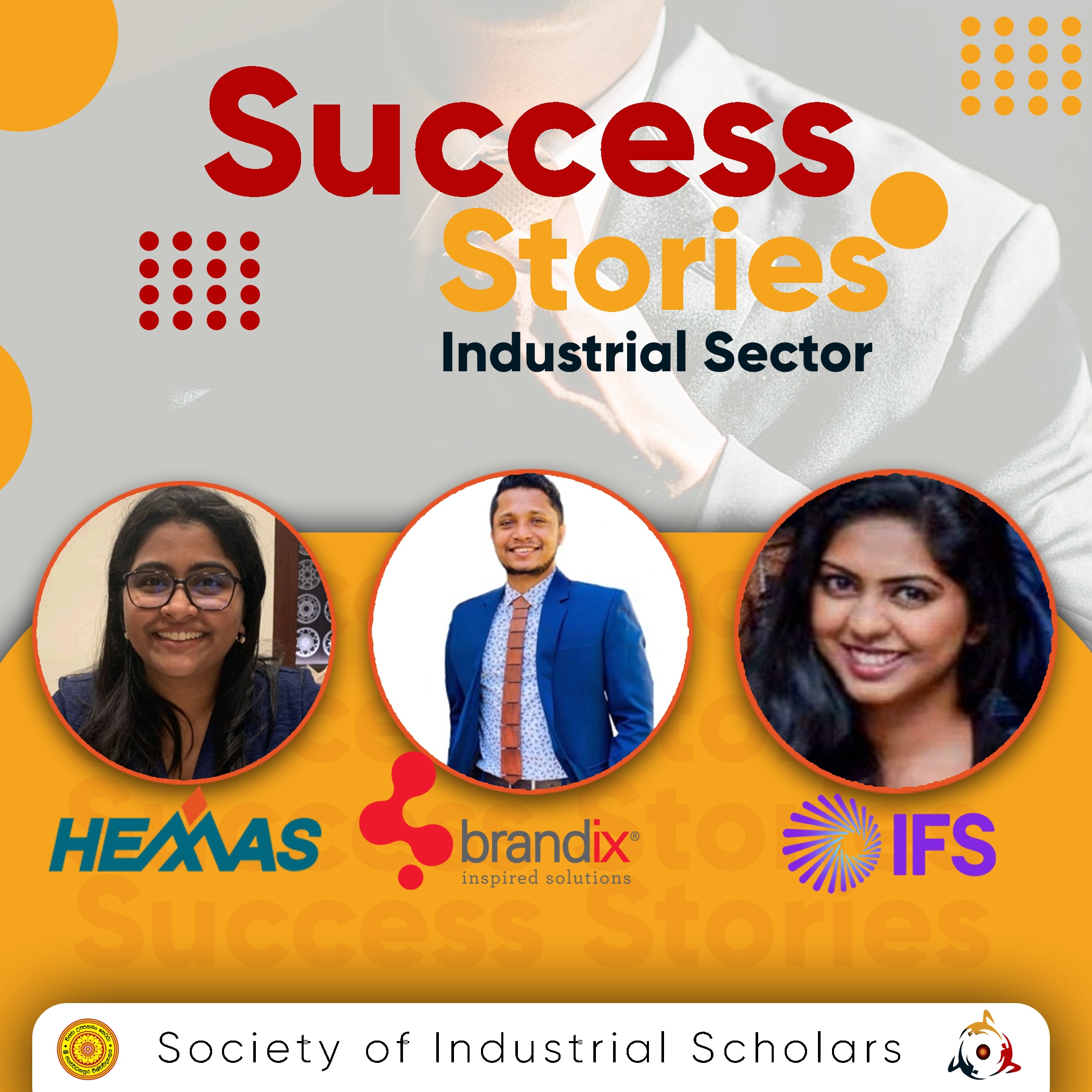 Success story of Pavithra Rushani Attale
Pavithra Rushani Attale, a past B.Sc Honours Degree graduate of the Faculty of Applied Sciences, University of Sri Jayewardenepura, found this degree program as an exciting combination for her career, and she chose it to change her path from science to management as soon as she got the chance to make one of the best decisions in her life. However, through this degree program, Pavithra got the best development of soft skills and knowledge in the corporation about professional and hard skills. "Through this program we were able to start an internship during the last few months, which opened up the window to the corporate world, and we did few projects along with corporate professionals, which helped us to build links", says Pavithra.
Later on, she entered into the management field and then she started her career as a category management executive at "Jay Kay Marketing" (Keels Super Markets) in 2016, right after the degree program. Then, after 3 years, she got an opportunity to join "Hemas" as Assistant Manager, Cycle Planning in 2019, and now, (2022), she got promoted to Category Manager. Currently, she handles the laundry, oral care, and hair care categories in customer marketing. She was running it today because of her talents and the enormous value added to her academic qualifications by this B.Sc (Honours) in Applied Sciences Degree program. According to her, undergraduates should always find an internship in the field that suits them (ex: operations, supply chain, finance, etc.). As a best practice, a selected internship will help undergraduates to get into a corporate field. In her opinion, scientists can do wonders in any field compared to others because they have a broader thinking capacity. So she can be considered as an icon to all undergraduates with a passion for management and are willing to experiment in this management field as a new path.
Success story of Rasanjana Perera
Rasanjana Perera has one of the most inspiring success stories of those who graduated from the B.Sc (Honours) in Applied Sciences Degree program of the University of Sri Jayewardenepura. Rasanjana started his career journey at "Brandix" in 2017 as an Intern in Research & Development at Brandix Finishing Limited during his final undergraduate year. The opportunity to join a well-known organization in the country was mainly due to being a student of the B.Sc (Honours) in Applied Sciences Degree program, which has an "industry-focused" curriculum. After completing the internship required for this degree program, he was accepted into the Brandix Group Management Trainee program in 2018, where only 15 candidates were chosen from thousands of applicants. Since then, he has gained corporate exposure and progress in his career to reach where he is now. He is now (2022) working as an Assistant Manager under the Engineering function at Brandix Apparel Limited, looking over the engineering-related commercials, covering over 25 manufacturing facilities located in Sri Lanka, India, Bangladesh, and the Dominican Republic because of the solid foundation he has been given from the B.Sc (Honours) in Applied Sciences Degree program in addition to his talent. He enjoyed his life in the science faculty and got the freedom to learn, grow, and evolve based on his strengths. The knowledge that the primary objective of the B.Sc (Honours) in Applied Sciences Degree program is to mold young undergraduates into capable freshers in the industrial sector was the main reason why he chose the degree program. According to Rasanjana's perspective, the decision to apply and pursue the B.Sc (Honours) in Applied Sciences Degree program was one of the significant decisions he made in his life. Not because it increased the credit count of the NVQ level of his degree, but because of what he was able to add as value to his career life. That extra year at university gave him experience and confidence to tackle the challenge of stepping out into a competitive world and thriving. After selecting it, he felt that stepping into the corporate sector would suit him more and provide opportunities to achieve his long-term objectives.
He could participate in multiple sessions focused on hard and soft skills under the degree program, along with the subject knowledge. The knowledge gained in MS Excel, SPSS, and PowerPoint presentation skills is still being used as a professional.
Additionally, various activities he organized and participated in provided him with hands-on experience in project management practices, effective communication, being a leader, and multitasking under stress. His message to the upcoming batches is as follows. "Focus on taking the maximum benefit out of the opportunity you have been presented with to make your future successful. Never lose the willingness to learn new things while paying attention to what the lecturers and resource people teach you and incorporate them into your life. Be respectful and humble and try to improve yourself each day. Make sure that one day you will be stepping out of the university as a proud product of the B.Sc (Honours) in Applied Sciences Degree program of the Faculty of Applied Sciences and be an inspirational character to the junior batches".
 So the B.Sc (Honours) in Applied Sciences Degree program provides essential skills and knowledge to develop sustainable growth in a highly competitive industrial environment. Unlike a typical academic program, the B.Sc (Honours) in Applied Sciences Degree gives equal priority to the student's focused subject area and practical industrial sector knowledge, which gives the students an edge when seeking career opportunities as fresh graduates.
Success story of Shanika Nilmini
Shanika Nilmini has followed the path shown by the Honours Degree program and can be recognized as a person who has achieved a higher position in the industrial sector. She is currently (2022) living in the Netherlands, living up her dream career. After getting selected for the B.Sc (Honours) in Applied Sciences Degree program, she worked hard with hope for her future higher education and career life. Although she did not have much confidence initially, she built her confidence with the contents of this B.Sc (Honours) in Applied Sciences Degree program. In the final year, she worked as the secretary of the Society of Industrial Scholars and as a committee member of the symposium. According to that, they arranged seminars, career fairs, and other activities. However, this allowed her to find the right internship. After finishing the degree program, she initially joined IFS Sri Lanka as a project coordinator and started her career as a customer success manager with " IFS Benelux" Company in the Netherlands. Not because the B.Sc (Honours) in Applied Sciences Degree program increased the value of her degree but because the research and six-month work experience as an intern was also significant to make a fully complete CV with all the necessities. As time passed, the degree program shaped and molded her into an enthusiastic, capable, and professional person for the corporate sector worldwide. According to Shanika, the degree program also helped her build soft skills such as team player attitudes, adaptability, work ethics, planning and organization, good communication, and professionalism. Besides that, this degree program also developed hard skills such as technical skills, Microsoft skills, marketing and management skills, and project management skills. According to her, "whatever you believe, whatever you want, you can create your path." So the B.Sc (Honours) in Applied Sciences Degree program is the best platform to step into your best career pathway in the industrial sector.
Author – Poornima Dissanayake