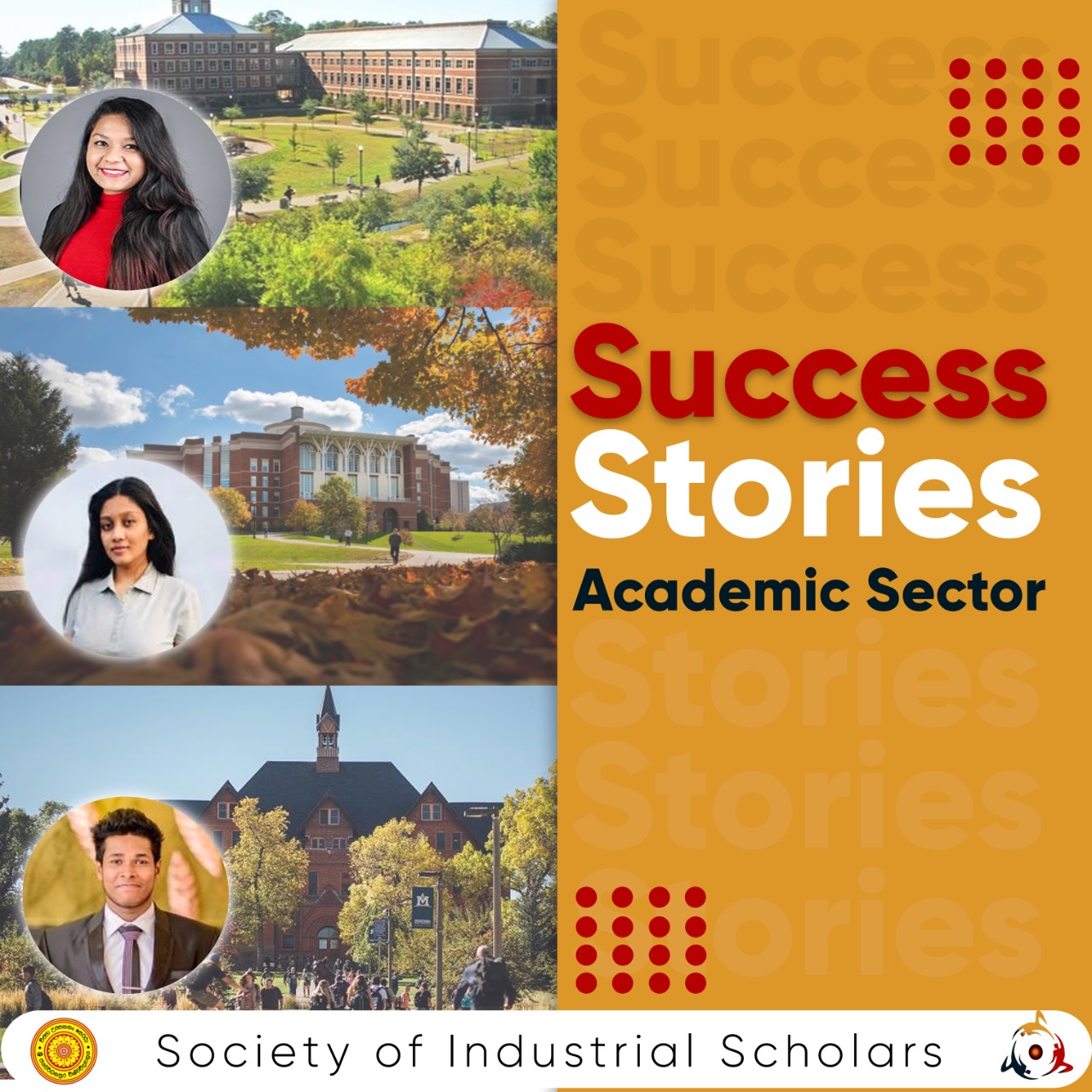 Success story of Senali Amarasuriya
Senali Amarasuriya is a graduate of the B.Sc (Honours) in Applied Sciences Degree , and now she is a final year Ph.D. candidate in Logistics and Supply Chain Management at Georgia Southern University, United States. She is currently working on her dissertation and as an Instructor of Operations and Supply Chain Management for the undergraduate students at Georgia Southern.
Senali's story of choosing the B.Sc (Honours) in Applied Sciences Degree goes back to the point of applying for universities after getting her A/L results. At that time, she was studying for the CIMA-UK qualification which intrigued her to pursue a management-oriented Degree program. She did her A/Ls in the Bio Science stream in 2014, and the University of Sri Jayewardenepura was the only university to offer a Management Science course option for Bioscience students. Hence J'pura was her first choice, and her sole intention of applying there was to study Management Science which would harness and complement the knowledge she gained from CIMA.
Even though Senali got selected for the Aquatic Resource Management Special Degree Program at the end of the second year, she decided to stick to her initial plan of graduating with a business management-oriented Degree. By that time, she was also a CIMA Passed Finalist, and the university was offering the Honours Degree program in Management Science which was like a treasure trove for her. Senali says, "This Degree option reinforced my ambition to pursue further education in Management Science, preferably a doctoral Degree. It paved the way for the post-graduate education I seek through its four-year course structure incorporating core management-related course units which are one of the main requirements when applying for doctoral Degrees."  Finally, she got selected for the B.Sc (Honours) in Applied Sciences Degree with the highest GPA among the rest of the students and was also able to graduate as the Batch Top. "That recognition offered by the program, along with its tailor-made structure for pursuing graduate studies, hence became a vital antecedent to realizing my life goals." Says  Sonali.
She further describes the importance of gaining an Honours Degree in Applied Sciences and how it benefited her to pursue her dream pathway, "I would say that the correlation between following the Hons Degree in Management Science and getting selected for the doctoral Degree was positive and fairly significant! Applying for a doctoral Degree requires you to have either a four-year Degree covering a specific number of credit hours in the relevant discipline or a three-year Degree with a master's." Obviously, she did not have to do a master's Degree since the Honours Degree was four years long with the required number of credit hours related to the management domain. And she proudly adds, "I am the only student with only a bachelor's Degree and not a master's among the rest of the Ph.D. students here!"
The fact because the B.Sc (Honours) in Applied Sciences Degree program offers industrial exposure and a research component based on the same during the final year, Senali was able to get a massive benefit from that. "That augmented my ability to apply the theories I learned within the lecture halls to real-life practical scenarios." Especially it helped her to get enrolled as a Ph.D. candidate at Georgia Southern University: "Having the industry experience was one of the plus points which scored me a position as a Ph.D. Student at Georgia Southern."
In her role as the chief editor for the Society of Industrial Scholars, Senali also had networking opportunities with the industry during the Uni-In-Alliance symposium. She describes, "The networking opportunities with the industry representative it leveraged, along with the on-the-ground experience on how to present your research work at an academic conference molded me to have that perfect strategic fit between the corporate and the academia as a fresh graduate." Moreover, it gave her first-hand experience in academic publications, "This diversified exposure laid the founding stones on which I built my post-graduate life."
Senali strongly believes the final undergraduate year was the critical year that made all the difference, "First, not only it made it possible for me to reach for my dreams by fulfilling the academic qualification requirement needed to apply for a doctoral Degree, but it also gave me ample opportunity to have both corporate and scholarly exposure in terms of gaining industry experience, participating in academic conferences and publications." She explains, "Therefore, the outcome of the final year is of two folds, either it directs you to the academic pathway or it directs you to the corporate world."  Many of her colleagues built their careers on the internships they received in their final year. She further explains, "If I did not pursue a Ph.D., I also would have treaded along the career pathway, gates of which were opened by the Degree program in its final year."
Senali's advice reflects her experience, "It doesn't have to be laid in rock solid but having some sort of an idea of what you want to do after you graduate at least by the end of the first year in university will preclude much confusion in later stages of your life. Even though I am a science student, I knew that it is a business management-oriented Degree I wanted to pursue, and I built my plans around that core thought, which led to all other subsequent actions. Later on, I realized that it is the academia I wanted to join, which required me to have a four-year Degree in the management discipline, hence why the choice of the Hons Degree became the next step. Thus, I think that the earlier you figure out what your end goal is, the more convenient it would become for you to tackle the challenges life throws your way.
Also, try to milk the maximum out of all the opportunities this Honours Degree program offers you. Other than focusing on your studies, try being an active member of the SIS and participate in organizing the Uni-InAlliance because it is the little things which will make a huge difference one day. You never know when they become the point of differentiation between you and the rest."
Senali says a yes to this Degree program with a capital Y: "Be it the corporate world you want to join or be it the academia, you have it with the B.Sc (Honours) in Applied Sciences Degree program. You can either pursue further education like I did, building on the four-year structure of the Honours Degree, or you can start your career life building on the industry exposure you gained via the Honours Degree. Given the versatility of the options available to you after graduating with the Honours Degree program, I think this is something you won't like to miss."
Success story of Lasni Nishshanke
Lasni Nishshanke is a graduate of the B.Sc (Honours) in Applied Sciences Degree program who is currently pursuing her Ph.D. in neuroendocrinology and behavioral neuroscience from the Santollo Lab at the College of Arts and Sciences, University of Kentucky, USA. Now she lives in Lexington, Kentucky, in a beautiful studio apartment overlooking a garden and the state arboretum. She enjoys her free time reading books and going out with friends.
During her final undergrad year, she wanted to choose her supervisor and her field of research because she already knew what she wanted to do with her life. She also preferred the fact that the B.Sc (Honours) in Applied Sciences Degree offered internships outside the university so she could get laboratory experience from one of the leading research laboratories in the country. "I loved the student community, outreach work the student body was doing, and the symposium," says Lasni. With that, she discovered that the B.Sc (Honours) in Applied Sciences Degree program would be a perfect fit for her passions and strengths.
Lasni describes how this Degree program helped her reach her goals in Academia, with the opportunities and exposure she gained to connect with different people from across the country. "The Honours Degree gave me the chance to take control of my Degree. So instead of graduating with a cookie cutter Degree like most of the students, I customized my Degree to prepare me for post-graduate life. I opened up new subjects for myself, selected my research lab and my internal supervisor, and volunteered with the student body, which immensely helped me get where I am today," she says, "I don't think I would be able to come this far without the Honours Degree."
Furthermore, when she was writing her 2nd-semester exams in the 4th year, she already had a fully funded Ph.D. offer. While her colleagues and seniors were doing M.Phils. or masters to get to where she is today, she was already there, just because she chose to do one extra year. Even during the covid pandemic, she was able to continue her research as she had access to an outside research laboratory. She studied subjects that she would never have bothered to learn if she left with a 3-year Degree. That one year turned her Degree from a B.Sc to a B.Sc Honours. Even if she did not go into Academia, that change would have been enough for her to have job security. In her words, "It is just two more semesters, but those two semesters have the ability to change the course of your life."
If Lasni were to give a piece of advice to other students, she would say, " Good things do not happen to the people who wait. Good things happen to the people who go out and make it happen. So, if you want something, work for it. Put in the effort, and you are going to go there. Never let society tell you what you can and cannot do!".
Success story of Pavan Chandula Perera
Pavan Chandula Perera is a former graduate in B.Sc (Honours) in Applied Sciences Degree program, who is currently following his Master's Degree and also working as a Graduate Teaching Assistant at the Department of Mathematical Sciences at Montana State University, USA. During the undergraduate period, he was willing to do graduate studies overseas, but he had no prior experience. However, in the third year, Pavan has discovered that a four-year Degree program is an essential requirement at the admissions for higher studies, especially in countries like Canada/USA. Meanwhile, he had the opportunity to take part in the awareness program of B.Sc (Honours) in Applied Sciences, where he discovered the value of the Degree, the internship, and the possible commercial exposure one could get by following it. Because of all these reasons he has finally decided to follow the B.Sc (Honours) Degree program in the field of Mathematics. Pavan was eligible to apply for higher studies in any university in the world since the program is a four-year Degree program that includes 120 credits altogether. He received offers from the vast majority of the universities which he applied to in the USA and Canada.
"According to my personal experiences, the research project and the internship are the most important components in this program. While I was working as an intern in the industry, I had the opportunity to solve an industrial related problem and was able to apply the theories I studied in my courses. Also, the courses like research methodology and scientific writing were really important to me since it was my very first research experience. Also, since the program is aligned with different activities like the Undergraduate Symposium, I was able to get a lot of hands-on experiences about the research publications and research conferences" says Pavan. Moreover, all of this support and the exposure have made it possible for him to publish his final year research at an international conference in Thailand.
The BSc (Honours) in Applied Sciences Degree program has helped him in achieving his way to success. "If I didn't select this Degree program, I would never be able to come this far," Pavan explains.
Pavan's advice to undergraduates reflects his experience, "As a final year student, you should decide what you are going to do after your Degree. You always need to have a plan and you must plan your future ahead. It could be either industry or academia, this Degree program will definitely be beneficial for you. Therefore, I highly recommend you follow it"
Authors – Dewni Yasara Mallikarachchi, Sewwandi Jayarathna