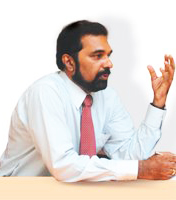 You are now a privileged student of the prestigious Faculty of Applied Sciences in this esteemed university. As your Dean, it gives me great pleasure to welcome you at this important juncture of your lives, where you take a decisive step towards your future.
The Faculty of Applied Sciences has indeed come a long way since its inception in the early 60s. The greatest strength we have is our integrated curriculum .The applicability and practicality of our courses provide the students with the necessary skills to face their future with confidence. We, in the faculty, believe in application. We choose to differ from the conventional methods and that has become our greatest strength.
In addition, the quality of our teaching is of the highest calibre as more than 75% of the staff are Ph.D. and Postgraduate Degree holders, from universities around the world and the expertise, skill and knowledge they offer are truly note worthy.
As the first Alumni Dean of the faculty, I take my task seriously and my ultimate goal is to make our faculty the best Faculty of Science in the Sri Lankan university system.
To achieve this goal, we have structured a long term plan spanning over the next ten years during which we will accomplish our target. Already the student intake has increased to over 500 from the 2010/2011 academic year, the infrastructure of the faculty has been upgraded with the renovation of all lecture halls and departmental buildings and the opening of 4 – floors a new 7-floor faculty complex worth 360 million rupees. We have also introduced new subjects to the faculty such as Biology Information Communication Technology; Sports Science and Management.
It is common knowledge that "The foundation of every state is the education of its youth". The Faculty of Applied Sciences strives to accomplish the successful education of youth. We, as facilitators, offer you the opportunity to achieve your goals. Make the best of the resources made available to you.On behalf of the faculty,I welcome you all.I wish you success.
Professor Sudantha Liyanage
Dean – Faculty of Applied Sciences