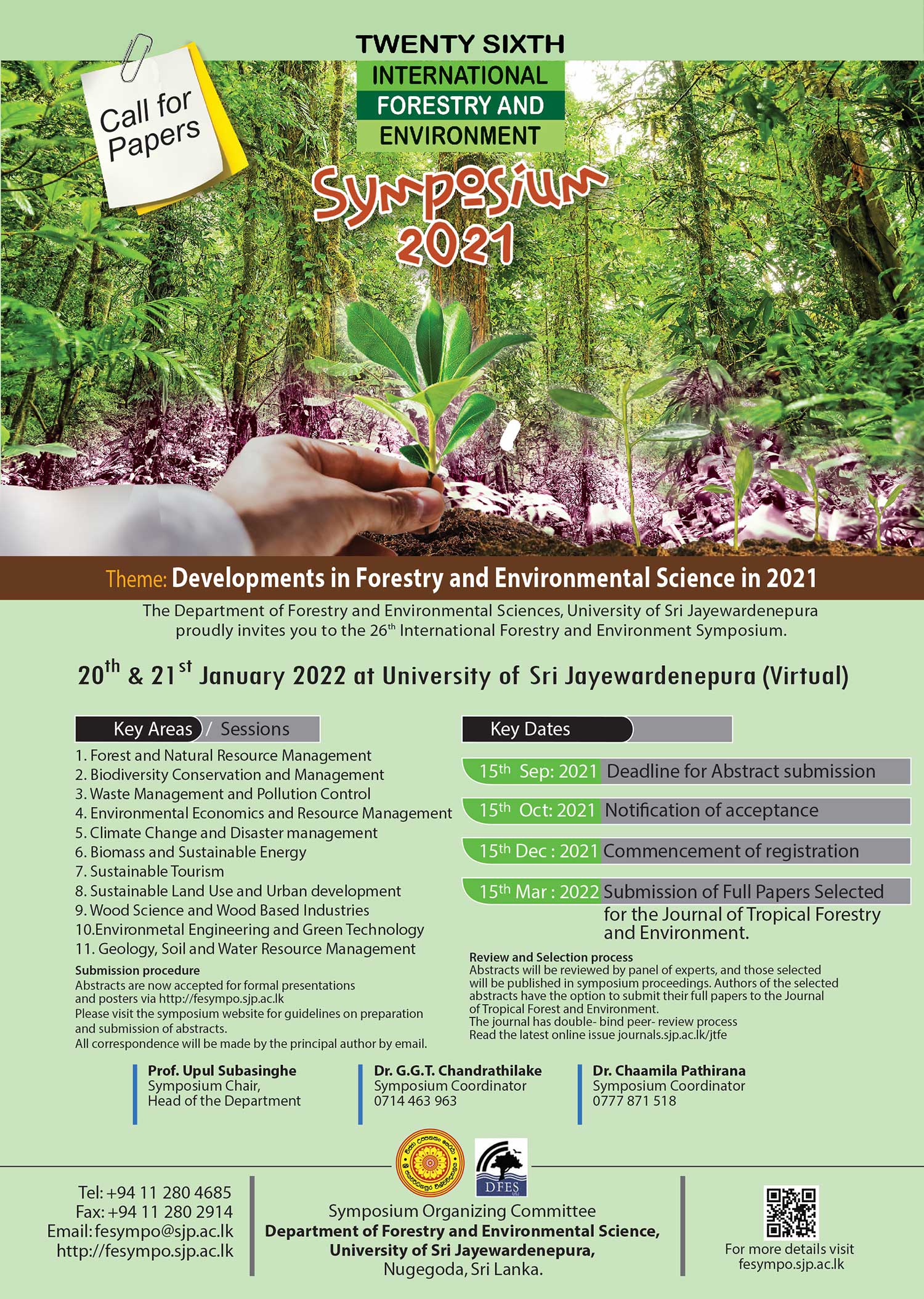 Call for papers
Theme:  Developments in Forestry and Environmental Science in 2021
We are pleased to announce that the 26th International Forestry and Environmental Science Symposium organized by the Department of Forestry & Environmental Science, Faculty of Applied Sciences, University of Sri Jayewardenepura (USJ) under the above theme will be held on 20th & 21st of January 2022 at USJ in Colombo, Sri Lanka.
Twenty sixth International Forestry and Environmental Science Symposium would be an ideal platform for you to stay connected with well-established research networks and to get your outstanding work visible.
Key Dates
Deadline for Abstract Submission: 15th September 2021
Notification of Acceptance (Abstract): 15th October 2021
Commencement of Registration of Presenters: 15th December 2021
Submission of Full Papers Selected for the Journal of Tropical Forestry and Environment: 15th March 2022
Key Sessions:
Forest and Natural Resource Management
Biodiversity Conservation and Management
Waste Management and Pollution Control
Environmental Economics and Resource Management
Climate Change and Disaster management
Biomass and Sustainable Energy
Sustainable Tourism
Sustainable Land Use and Urban development
Wood Science and Wood Based Industries
Environmental Engineering and Green Technology
Geology, Soil and Water Resource Management
Submission procedure
Abstracts are now accepted for formal presentations and posters via http://fesympo.sjp.ac.lk
Please visit the symposium website for guidelines on preparation and submission of abstracts. All correspondence will be made by the principal author by email.
Review and Selection process
Abstracts will be reviewed by panel of experts, and those selected will be published in symposium proceedings. Authors of the selected abstracts have the option to submit their full papers to the Journal of Tropical Forest and Environment. The journal has double- bind peer- review process
Read the latest online issue:     journals.sjp.ac.lk/jtfe
Contact Details
Symposium Chair
Prof. Upul Subasinghe
Symposium Coordinators
Dr. Dr. G.G.T. Chandrathilake
0714463963
Dr. Chaamila Pathirana
0777871518
Symposium organizing Committee
Department of Forestry & Environmental Science
University of Sri Jayewardenepura, Nugegoda,
Sri Lanka
Tel: +94 11 280 4685
Fax: +94 11 280 2914
Email: fesympo@sjp.ac.lk
http://fesympo.sjp.ac.lk