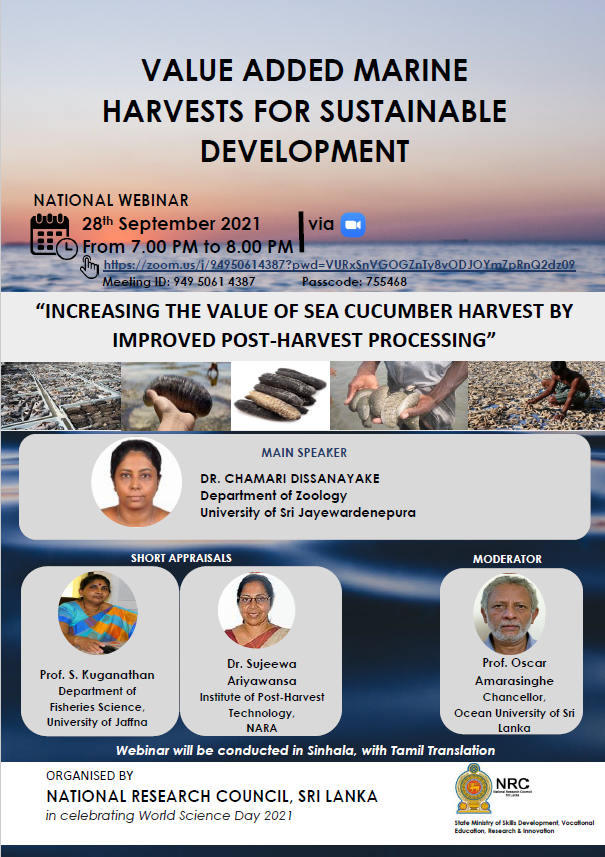 Webinar on Sea Cucumber, which presents the findings of a research project carried out by Dr. Chamari Dissanayake of the Zoology Department, USJ funded by the National Research  Council (NRC). The NRC is organizing this webinar to disseminate the results and the key messages of the research towards strengthening the national economy and wellbeing of the people while maintaining resource sustainability. The webinar will be held on the 28th of September, starting at 7 PM.
The main speaker would be Dr. Chamari Dissanayake (project leader) of the Sri Jayewardenepura University, and two short appraisals of the project shall be presented by Professor Sivashanthini Kuganathan of the University of Jaffna and Dr. Sujeewa Ariyawansa of the National Aquatic Resources Research and Development Agency (NARA). Prof. Oscar Amarasinghe, Chancellor of the Ocean University will function as the moderator.
The webinar will be conducted in Sinhala, with Tamil Translation.
The target audience includes seafood processors, exporters, investors, communities, CSOs, researchers, academics, and students.