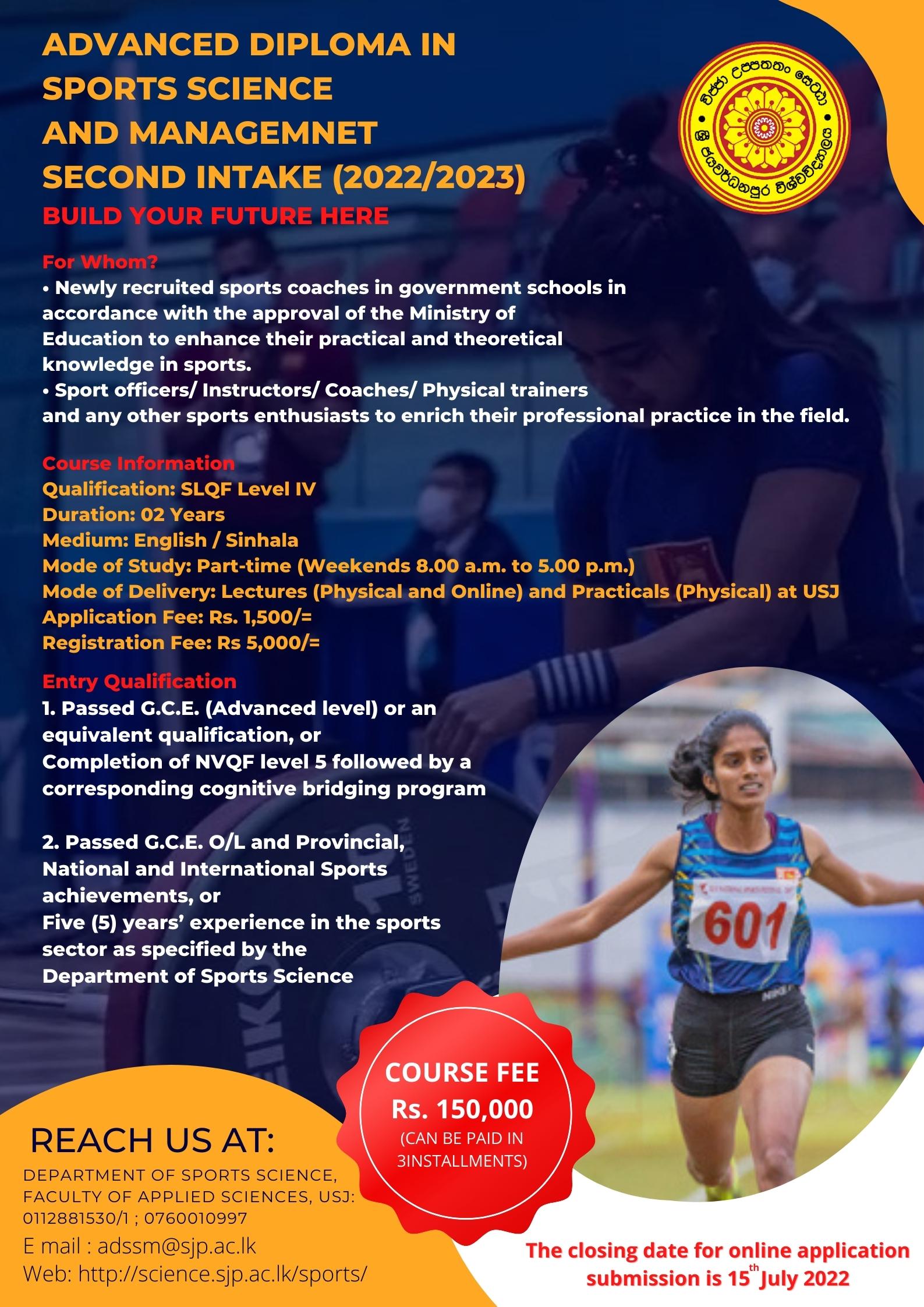 Applications have now been called for the 2nd intake (2022/2023) for the Advanced Diploma in Sports Science and Management (ADSSM) offered by the Department of Sports Science, Faculty of Applied Sciences, University of Sri Jayewardenepura.
To be eligible for the admission to the above-mentioned Advanced Diploma programme, candidates should have possess,
1) General Certificate of Education (Advanced Level) or an equivalent qualification
or
Completion of NVQF level 5 followed by a corresponding cognitive bridging program.
 ————————————— or—————————————————————–
2) General Certificate of Education (Ordinary Level) and Provincial or National or International Sports achievements
or
Five (5) years' experience in sports sector as specified by the Department of Sports Science
Course Information
Qualification:
SLQF Level IV
Duration:
02 Years 
Medium:
English / Sinhala
Mode of Study:
Part-time (Weekends 8.00 a.m. to 5.00 p.m.)
Mode of Delivery:
Lectures (Physical and Online) and Practicals (Physical) at USJ
Course Fee:
Rs 150,000/= (can be paid in 2 installments)
Registration Fee:
Rs 5,000/=
SUBMISSION OF APPLICATIONS
Applicants should apply online  – Click Here to Apply Online >>
Applicants should pay an application fee of Rs. 1,500/= to the Bank Account Number 097-1-001-7-001-4075 (People's Bank, Gangodawila Branch) in favour of University of Sri Jayewardenepura and should upload a copy of the payment/ bank deposit slip.
Note: Payments made on behalf of the university is non-refundable and non-transferable at any circumstance.
The closing date for the online application submission is 10th June 2022    15th July 2022
For further information, please contact:
Dept. of Sports Science, Faculty of Applied Sciences, USJ: 0112881530/1 ; 0760010997 ; adssm@sjp.ac.lk
The Registrar
University of Sri Jayewardenepura
Gangodawila
Nugegoda
07.05.2022
Download the Approval Form from the Head of the Organization (MS Word)
Download the Approval Form from the Head of the Organization (PDF)