The 2nd International Conference on Bio Science and Biotechnology 2017
(BIOTECH-2017)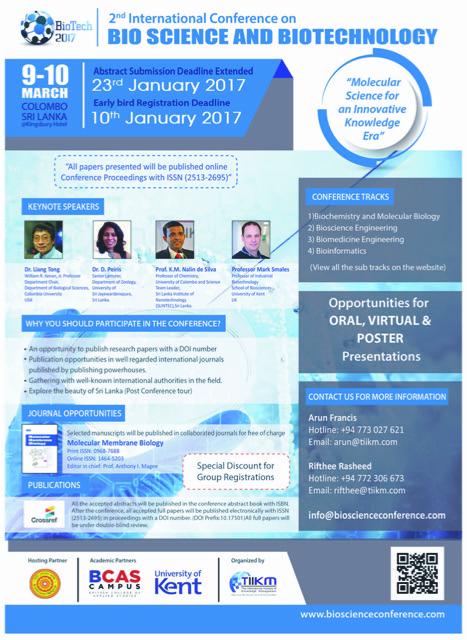 Venue-The Kingsbury Hotel
Location – Colombo, Sri Lanka
Paper Publication – Molecular Membrane Biology; Print ISSN: 0968-7688,
                                         Online ISSN: 1464-5203, Editor in chief: Prof. Anthony I. Magee
ABSTRACT SUBMISSION DEADLINE: 23rd December 2016
Submit you abstract to – abstract@bioscienceconference.com
Organized by – The International Institute of Knowledge Management (TIIKM)
The 2nd International Conference on Bio Science and Biotechnology 2017 (BIOTECH-2017) which is scheduled to be held under the theme "Molecular Science for an Innovative Knowledge Era" will be an arena for researchers, Bio-technologists, Bio scientists, Policy makers, young individuals and industry experts to come together, share experiences, discuss research findings and acquire the desired knowledge for practical exercise.
You are also welcome to submit a presentation proposal either for a 20-minute oral presentation or a poster presentation. Parallel sessions are loosely grouped into streams reflecting different perspectives or disciplines. Each stream also has its own talking circle. For those unable to attend the conference in person, virtual participation is also available.
For more information, Visit http://bioscienceconference.com/
Existing Rate (LKR)       Discounted Rate (LKR)

          16000                  14000 (For 2 days) / 11000 (For 1 day with dinner)

Existing Rate (LKR)       Discounted Rate (LKR)

          12000                  12000 (For 2 days) / 9000 (For 1 day without dinner)

(We don't calculate cost of dinner for the fee of students, so 12000 is the same fee)