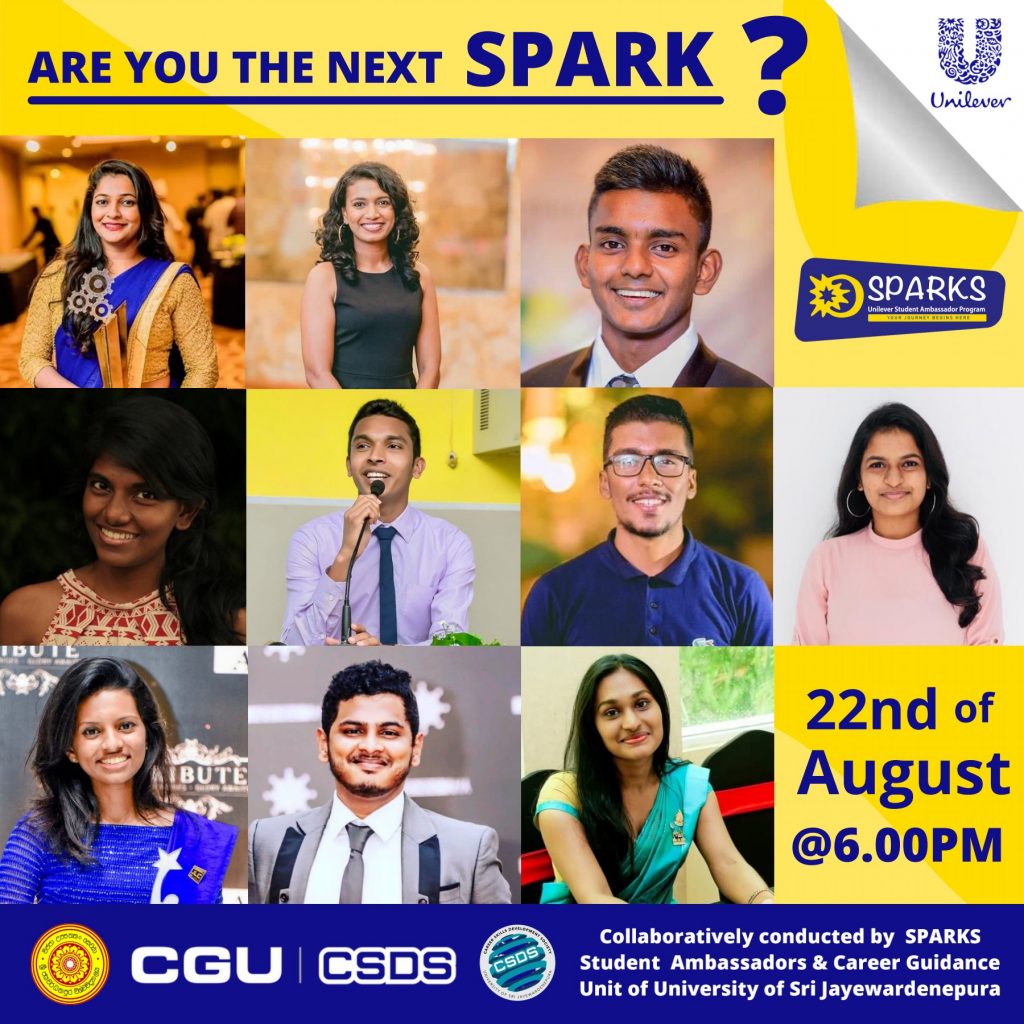 An opportunity awaits for you to be a Student Ambassadors for University of Sri Jayewardenepura!
Are you an outstanding and skillful undergraduate who is willing to take up the challenges to work for the betterment of University of Sri Jayewardenepura while developing yourself and your fellow undergraduates under a rich corporate exposure? Then this opportunity awaits for you.
The SPARKS Programme is a Student Ambassadorship Programme which is designed to allow students to exhibit their strength as leaders & team players while enhancing the pioneering spirit and skills of talented Sri Lankan youth, inspiring them to be the forces of positive influence amongst their peers. This programme provides students an opportunity to experience the impact of Ambassadorship through their
experience of working with Corporate Exposure and develops themselves in key skill areas such as negotiation, stakeholder management and team working, while strengthen their professional networks.
Under the immense guidance of Career Guidance Unit of University of Sri Jayewardenepura, the SPARKS Ambassadors have conducted various projects aiming to serve the fellow university students throughout years. As the current SPARKS Student Ambassadors, Supun Harshana, Dinithi Withana and Tharushi Samarasinghe are actively conducting informative and impactful projects aiming to enrich the
undergraduates and fresh graduates of University of Sri Jayewardenepura, with educational, corporative knowledge and exposure. In addition to that these student Ambassadors have been partnered up with different societies and clubs of university of Sri Jayewardenepura, adding more weight to the projects they have been organizing inside the university throughout the year 2020/21.
The time has arrived to pass the years of excellency to a set of fresh Student Ambassadors to serve for their very own university and for the fellow undergraduates, while developing themselves under the guidance of Career Guidance Unit of University of Sri Jayewardenepura along with the corporate exposure of Unilever Sri Lanka.
If you are an undergraduate believing in your own strengths and skills, the door is open for you!
Applications are NOW OPEN for the SPARKS Student Ambassadorship Programme.
Application Link : https://form.typeform.com/to/GpsSTxdP
If you are willing to know more about the SPARKS Programme, you can join us on 22nd August at 6.00 p.m.
via Zoom.
Join Zoom Meeting :
https://us02web.zoom.us/j/82202660530?pwd=d3ZHdEpPalNMRkdMQThzNS9EWTVMQT09
Meeting ID: 822 0266 0530
Passcode: 655283
Join WhatsApp Groups to stay updated :
1. https://chat.whatsapp.com/HObYmDTxQp6Av9RPJWzllK
2. https://chat.whatsapp.com/EZvrMSjS0Gr8g5Dsm243WT
For further clarification please contact;
Dinithi Withana – 071 073 2095 (FHSS)
Supun Harshana – 076 909 2185 (FOT)
Tharushi Samarasinghe – 071 652 3695 (FAS)
(Deadline for the Applications – 24th August)